i'd be shocked if this story didn't end up on the golden screen some time in the not too distant future:
The plane slowed and leveled out about a mile aboveground. Up ahead, the Viennese castle glowed like a fairy tale palace. When the pilot gave the thumbs-up, Gerald Blanchard looked down, checked his parachute straps, and jumped into the darkness. He plummeted for a second, then pulled his cord, slowing to a nice descent toward the tiled roof. It was early June 1998, and the evening wind was warm. If it kept cooperating, Blanchard would touch down directly above the room that held the Koechert Diamond Pearl. He steered his parachute toward his target.
A couple of days earlier, Blanchard had appeared to be just another twentysomething on vacation with his wife and her wealthy father. The three of them were taking a six-month grand European tour: London, Rome, Barcelona, the French Riviera, Vienna. When they stopped at the Schloss Schönbrunn, the Austrian equivalent of Versailles, his father-in-law's VIP status granted them a special preview peek at a highly prized piece from a private collection. And there it was: In a cavernous room, in an alarmed case, behind bulletproof glass, on a weight-sensitive pedestal — a delicate but dazzling 10-pointed star of diamonds fanned around one monstrous pearl. Five seconds after laying eyes on it, Blanchard knew he would try to take it.
Here are some famous movie quotes graphed.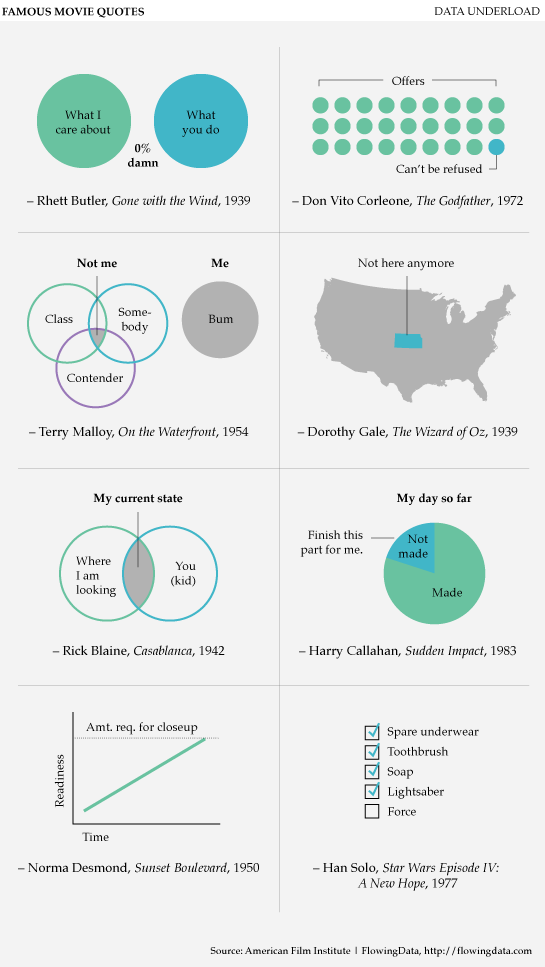 Makes my inner geek smile.


There's a really interesting profile of Roger Ebert in Esquire.
It has been nearly four years since Roger Ebert lost his lower jaw and his ability to speak. Now television's most famous movie critic is rarely seen and never heard, but his words have never stopped.

* * *
Roger Ebert can't remember the last thing he ate. He can't remember the last thing he drank, either, or the last thing he said. Of course, those things existed; those lasts happened. They just didn't happen with enough warning for him to have bothered committing them to memory — it wasn't as though he sat down, knowingly, to his last supper or last cup of coffee or to whisper a last word into Chaz's ear. The doctors told him they were going to give him back his ability to eat, drink, and talk. But the doctors were wrong, weren't they? On some morning or afternoon or evening, sometime in 2006, Ebert took his last bite and sip, and he spoke his last word.
Ebert's lasts almost certainly took place in a hospital. That much he can guess. His last food was probably nothing special, except that it was: hot soup in a brown plastic bowl; maybe some oatmeal; perhaps a saltine or some canned peaches. His last drink? Water, most likely, but maybe juice, again slurped out of plastic with the tinfoil lid peeled back. The last thing he said? Ebert thinks about it for a few moments, and then his eyes go wide behind his glasses, and he looks out into space in case the answer is floating in the air somewhere. It isn't. He looks surprised that he can't remember. He knows the last words Studs Terkel's wife, Ida, muttered when she was wheeled into the operating room ("Louis, what have you gotten me into now?"), but Ebert doesn't know what his own last words were. He thinks he probably said goodbye to Chaz before one of his own trips into the operating room, perhaps when he had parts of his salivary glands taken out — but that can't be right. He was back on TV after that operation. Whenever it was, the moment wasn't cinematic. His last words weren't recorded. There was just his voice, and then there wasn't.
Like many of my generation, I grew up watching Ebert argue with Gene Siskel over whether a movie deserved a thumbs up or down on At the Movies. After Siskel passed away, I didn't watch the show much anymore. I wasn't a huge fan of his replacement.
I would hear about Ebert here and there, but it wasn't until I heard a story on All Things Considered about this company from Scotland that was reproducing his voice from old recordings so he could speak that I heard anything about his health issues.
I find what has happened to him both sad and uplifting. I wish him all the best. Clearly he's getting along just fine despite what must be an almost intolerable situation. It's certainly nightmarish to contemplate it happening.
More info:
Don't tell me that Mr. T was unavailable? If anything smacks of desperation more than this, I'd like to see it.
Saw the latest Star Trek opus last night in a mostly emtpy theater in Sao Paulo. With a few minor places where the movie looked too much like Starship Troopers, it was quite good. It's probably not going to win any Academy Awards, except maybe some technical ones, but it's worth a watch, especially for casual fans of Star Trek-interesting to see the main characters as young men and women.
The casting of movie was excellent, most notably Zachary Quinto as the young Spock. The guy is just so perfect. Looks right. Sounds right. Is right. Simon Pegg as the young Scotty was also an inspired choice.
I was sort of disappointed that none of the aliens spoke in any language other than English. I was expecting to have some trouble with that part of the movie as the subtitles would have been in Portuguese. I even prepared Raquel that she would have to translate for me, but it turned out to be unecessary. The last time I saw a movie in Brazil, The Lord of the Rings, I completely missed on everything the Elves said because there was no translation in English. No problems on that end here.

Tonight I'm going to see North By Northwest at the old Art Deco Paramount Theater in downtown Oakland. I've never been to this theater and I've never seen North By Northwest on a large screen, so it's very exciting.
North By Northwest is one of my favorite movies. It's a Hitchcock classic, a color Film Noir about an innocent Madison Avenue exec (Cary Grant) who gets mistaken for someone else and winds up trapped in a nefarious plot that he cannot control. The movie feature Cary Grant at his best along with James Mason and very early performances in the careers of Eva Marie Saint and Martin Landau.
I've never been a huge fan of the cineplexes and I mourn the closure of every large scale theater. The Paramount doesn't show movies every night, only on a Friday, but it's a start. The Paramount is such a throwback theatre, it has a full bar. The bar opens an hour before the curtain so I should be able to get in at least one martini before the screening starts.
Now I just need to find a decent restaurant in downtown Oakland…

On a friend's recommendation, I recently rented Winged Migration. It wasn't a perfect film, but I really enjoyed it. The photography is simply spectacular. If you enjoy Nature and Wild Kingdom, you'll probably dig this movie.
Granted the narration is a little weak. It doesn't even come close to something like March of the Penguins, and some of the story, which you can see in the special features on the DVD, is just unbelievably contrived. They didn't just go out and photograph the geese flying. Sometimes they would put the gander in a particular situation, release them so they could be photographed crossing the street, for example.
But the shots of the geese are so compelling, it makes up for the minor transgression here and there. Some of the imagery is so beautiful and close that it doesn't look real. It looks like CGI, but it's not. It really has to be seen.
There's a featured on the DVD that describes how they made the film which is truly fantastic. Using the work of legendary psychologist Konrad Lorenz, the production team raised geese and imprinted them to an ultralight plane which they used to guide the birds on their migrations and from which they were able to take their amazing close up shots of the flying geese. Truly amazing.
I discovered the documentary about Lance Armstrong and the US Postal Team, The Road to Paris, while I was reading Bob Roll's Tour de France Companion. I had never heard of it. I went immediately to Netflix to order the DVD, but they didn't have it. I was bummed. Then I tried You Tube and found the entire thing, split conveniently into 11 8 minute and 41 second vignettes. I love the internet.
Over the next couple of days, I watched all the episodes. The movie follows Lance Armstrong's US Postal Service for 27 days of training before the Tour de France. You get insights into both how a major cycling team functions on the inside, how they prepare for races, not just the Tour de France, but the entire European season, who does what on the team. You are privy to the internal machinations and the thought process behind training for the Tour. Finally you actually see Lance training in the rain and the snow and you get a sense of the amount of dedication it takes to win. It's truly amazing to see.
Listening to Johann Bruyneel discuss what it takes to win the Tour, trust in the team, how difficult it is to wear and defend the Yellow Jersey and why it's important not to have until absolutely necessary—all the demands, the media, the drug testing, etc, wears on the riders has given me new understanding for cycling and the Tour.
Here's the first episode:

It's a little hard to find the next episode once you've finished one, so here they all are:
1 Epiosde 1
2 Epiosde 2
3 Epiosde 3
4 Epiosde 4
5 Epiosde 5
6 Epiosde 6
7 Epiosde 7
8 Epiosde 8
9 Epiosde 9
10 Epiosde 10
11 Epiosde 11
The AFI is out with its latest set of lists, this time 10 top 10 lists. There's no list for just "Comedy", only "Romantic Comedy" (When Harry Met Sally should be number one), which is odd. So there's no place to honor The Big Lebowski, definitely the best comedy and one of the best films ever produced (thank you Joel and Ethan).
So while it's an interesting set of lists (and designed to foster debate like this), there are some things that I have a problem with.
I don't know why Field of Dreams is in "Fantasy" and not "Sports". That doesn't make any sense to me. Groundhog Day also appears in this odd "Fanstasy" category and should be in "Comedy", a category the AFI just left out. I'd probably include Presumed Innocent along with "Courtroom Drama". Star Wars: A New Hope is listed as #2 on "Sci-Fi, but I think Empire Strikes Back, which didn't make the list, is a superior film. Raiders of the Lost Ark is nowhere to be found, which is a crime. Nor is The Princess Bride, which should be #1 in "Fantasy" instead of the The Wizard of Oz.
Worst of all, The Natural, probably the 2nd best sports movie ever made (behind Raging Bull), is not even on the list. What a tragedy.
Part of the problem is that so many good movies cross genre boundaries and are particularly hard to categeroize. At the end of the day, it's just a few lists which are totally subjective.
Anyway, just for fun, here's my list of the top 10 American comedies (sorry, Monty Python)
10. Love & Death
9. Raising Arizona
8. Fast Times at Ridgemont High
7. A Fish Called Wanda
6. Blazing Saddles
5. Airplane
4. Fletch
3. Office Space
2. Groundhog Day
1. The Big Lebowski
Honorable Mention: Stripes, Trading Places, Caddyshack, Top Secret, This Is Spinal Tap, Better off Dead, History of the World Part I, Kentucky Fried Movie, Napoleon Dynamite, Austin Powers
Did I miss anything? I'm sure I did since I made this list when I was sitting in a boring meeting and didn't give it much thought. Are they mis-ordered? Let me know.
Twitter
RSS problems, check twitter username... http://twitter.com/statuses/user_timeline/hechtic.rss
About
This is the blog of Andrew Hecht, web guy, photographer, traveler, cyclist, and cat owner.
Search
Archives